Ultralight Aircraft
Enjoying the world of Ultralight Aircraft is more than just a passion.
These magnificent flying machines which you may know as microlight aircraft or light sport aircraft are a whole lot of fun.
Even to stop and watch them fly around makes you wish you were up there with the pilot, exploring the heavens or just enjoying being able to be free as a bird. I've yet to see a set of traffic lights that high up.
Have you ever imagined yourself taking the controls of an ultralight?
Believe it or not, there are many different types available including powered and un-powered.
Have you ever watched a hang glider take to the skies? First of all he/she assembles their glider and then before you know it they're launching their kite and bodies off a cliff or similar. For example, I took this hang gliding video recently. Click here to watch it. Obviously he was having the time of his life, right? I also enjoyed videoing him.
There are also many different type of powered hang glider available for the enthusiasts.
This reminds me of a flight my wife purchased for me years ago on a powered parachute. I have also seen these referred to as powered paragliders.
Basically these aircraft consist of one or two seats with the engine and propeller behind.
The parachute is spread out on the ground behind the pilot and as he/she starts to taxi forward the chute is filled with air and quickly rises above the seat/s.
As speed is increased the powered parachute takes to the skies and wow what a great way to fly!
We were up in the air for approx 15 - 30 minutes and flew to 1500'.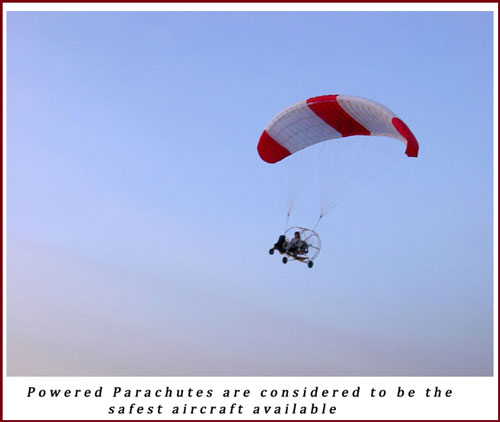 More Great Ultralight Airplane Resources
For even more information on airplanes, aircraft and/or aviation, AVHome will assist.
Stay up to date on ultralight news by clicking here.
Pacific Flyer Magazine Australian aviation aircraft magazine for recreational pilots & flying enthusiasts. Ultralight & homebuilt aircraft. Aviation events, articles, classifieds.



Return from Ultralight Aircraft to Airplane and Aircraft homepage