Airplane Cake
Anyone who loves airplanes or aircraft thinks that
an airplane cake is the absolute best
. What could be better than an airplane birthday cake?
Everything about these cakes is memorable. Whether it be a chocolate mud Boeing aircraft cake, or an orange double decker Airbus A380 cake, or even a swirl helicopter cake, these are all brilliant ideas.
So who is it in your family that loves any and all airplanes and aircraft as well as a great cake? Why not put the two together and give them the surprise of their lives.
Perhaps there is a birthday coming up or a celebration for getting employment in the Aviation industry, oh what the heck, let's just bake a cake just for the fun of it. The surprise on their face would make an excellent photo to keep and share around with family and friends later.
So let your imagination loose and come up with some airplane and/or aircraft cake ideas. For instance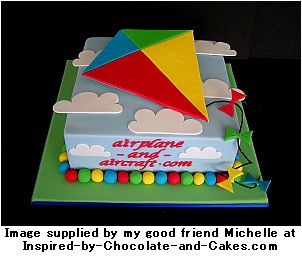 A kite ie diamond, delta, stunt or foil kite. May I suggest a kite as a birthday gift to compliment the cake? View the many different types of kites by clicking here.
A simple airplane
A simple helicopter
A hot air balloon
A stealth bomber

An aircraft carrier with airplanes on deck
The Space Shuttle or a rocket
One of the "F" series fighter planes i.e F-16, F-18, F-22
A cake that resembles a favorite radio control airplane toy or game. Great gift ideas here also. Click here to view the Radio Control Airplane Shop.
A jet fighter plane
I am sure there are a whole bunch of great airplane ideas out there. Let's see your airplane creations. Here's how ...

Have A Great Airplane Cake Creation?
Do you have a great story about your airplane cake creation? Share it!
Last flight from Airplane Cake to Airplane and Aircraft.com homepage.