Seeker SB7L-360A Aircraft
by Geoff
(Sydney NSW)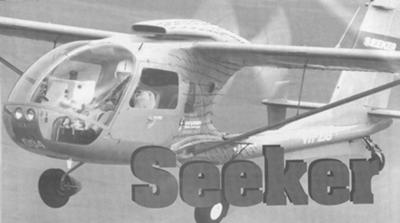 Seeker SB7L-360A Aircraft
Found the Seeker SB7L-360A Aircraft in the March 1999 Pacific Flyer magazine.


The Specs of the Seeker SB7L-360A are
Engine - Lycoming 0-360 B2C
Engine Power - 168bhp @ 2700rpm
Max. Weight - 925kg
Payload - 307kg (678lbs)
Airspeed - 65knots
Endurance - 8.2 hours
Range - 532nm (985km, 612 miles)
Designed and manufactured in Australia by Seabird Aviation Australia Pty Limited.
This great little airplane has been exported to the U.S.A, the Middle East as well as Africa. In 2004 both the U.S Central Command and the new Iraqi Air Force purchased two Seeker aircraft for surveillance purposes.
The Seeker is perfect for electricity and water or oil companies needing powerline and pipeline inspections.
Also Government agencies would use this for coastwatch, border patrol and environmental concerns.
Farmers would use this to monitor and muster sheep and cattle etc as well as keep an eye on their crop/s.
The armed forces, police force and security companies would make use of this aircraft for aerial photography, vehicle pursuits, surveillance, search & rescue and security reasons.
Flying schools could teach future pilots.
Things that are worthy of attention are
* positioning of the cabin provides 270 degree visibility. This also provides the pilot and crew with a more comfortable ride on long flights
* low stall speed
* fuel is stored in the wings and there are no fuel lines in the cabin area reducing fire hazard risks
* four point inertia reel harness comes standard; and
* Vibrations throughout the cockpit/cabin are virtually eliminated due to the high mounted engine fitted with a pusher propeller situated behind the cabin
For more information go to http://www.seabirdaviation.com.au/ where you will see the "SB7L-360 Seeker 2 (SEEKER)" or go to YouTube https://www.youtube.com/watch?feature=player_detailpage&v=s703HcD6_Zc to watch The Seeker in action.
For those wishing to view the CASA (Civil Aviation Safety Authority) Type Certificate Data Sheet No: VA502, just follow this link - http://www.casa.gov.au/wcmswr/_assets/main/casadata/cota/download/va502.pdf