Airplane Tickets
Purchasing airplane tickets is a very simple thing to do either off line or online.
What I would like to achieve here is to give you a
guide to purchasing your very own tickets online
. You may discover that different sites may vary slightly however the overall concept is still the same.
There are also things you will need to know such as accommodation, car rental, travel insurance (this would be a must have), prior to actually purchasing these tickets which we will include as we go along this process.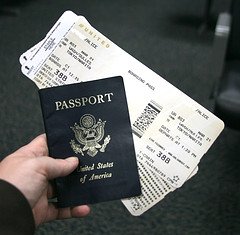 How to Book Your Tickets Online
We are ready to go.
Let's open up the Expedia website by clicking on this Best Airplane Tickets and Prices
link.
The reason is I have found their site is user friendly and the whole experience is welcoming and very helpful.
* "Build Your Trip" is on the left hand side of the home page so scroll down and we'll proceed this way. The other tabs across the homepage follow a similar format to the one we are about to follow.
* The "flight button" is automatically selected. If your preferences are different then now would be the time to check them. For example you might need accommodation therefore check "flight + hotel" or you may also need a car therefore check "flight + hotel + car".
* From the "Trip Information" select Return, One Way or Multiple Destinations. Enter your Leaving From and Going To; Departing Date and Time as well as Returning Date and Time.
* Should you have any "Additional Options" such as airline, first or business class, or non-stop flight preferences click on this option.
When completed click on "Search for Flights".
---
More Information Page
Step 2
Points 1, 2 & 3 confirm the information you have entered so far (for instance I have been asked which particular airport in New York I would like to arrive and depart from.)
Points 4, 5 and 6 ask - Who is Going on This Trip, Will You Need Anything Else for This Trip and Do You Have any Preferences"?
Click on "Continue" to proceed or "Start Search Over" to Change details.
From here you will receive a summary of flight options available to you provided by the information you have supplied so far.
You can have a bit of fun here by Previewing Seat Availability prior to Choosing This Departure flight. Once you have selected your departure you will then need to select your Return Flight.
---
Confirming Your Airplane Tickets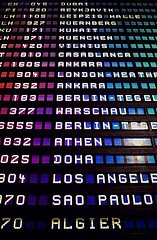 Step 3
You are now at your Flight Details page where you are asked about a discount voucher you may/may not have. Vouchers are given from time to time which you may use on any one trip booked.
Point 1 again reviews all the information supplied so far.
Point 2 is where you select your Travel Insurance Options and it is highly recommended you make use of this service.
Point 3 contains the Limitations, Rules and Restrictions and Penalty Rules for any Changes or Cancellations to your Flight.
Point 4 provides the Booking Option you wish to use to complete your purchase.
---
Sign In Securely
Create a new account and make all your travel requirements more personalized, friendly, faster, helpful and rewarding.
Complete your personal details i.e Name, User name, Password and Email Address. Read the Terms and Conditions before you Sign Up and Continue.
---
Added Activities
Make your holiday easier by booking ahead for necessary and/or pleasurable additions. Such as -
Shuttle Bus, Luxury Sedan Hire, Harbor Cruise, Bus Tours, Arts and Culture, Air and Land Adventures, Attraction Passes, Restaurants and Bars and Coupons.
Then Proceed with your Booking.
---
Trip Preferences
The Flight Information is the final step prior to booking your airplane tickets.
You are required to confirm that the person booking the ticket is between the ages of 12 and 64 or that a new traveler is accompanying you. You will also need to include your home phone number and passport details before Proceeding to Booking.
---
Payment of Tickets
I was not able to proceed any further without actually paying for the flight. However to book your airplane tickets you are going to need your credit card handy to enter the credit card number, name on the card, the expiry date and the sequence number (which is found on the back of your card).
I trust that all of this information has been useful to guide you through the process of booking airplane tickets in future.
Last flight to Airplane and Aircraft.com home page.